WELCOME TO SECTION 103
We evaluate a school's retail landscape and create what fans — men, women, and children — are clamoring for, from the basics they can't seem to find to our exclusive, conceptual designs based on the school's brand, history, and traditions.
Each thoughtful design is screen printed on the softest, best-fitting products we've ever tried, and we allow fans to direct which products we produce by voting on our unreleased designs.
Up first, the old alma mater, Georgia Tech. More to come soon.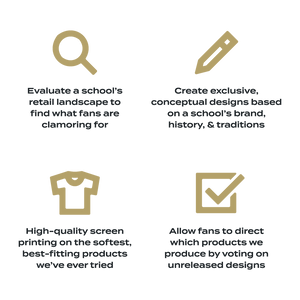 FELIZ BOBBY DODD!
Our popular Feliz Bobby Dodd sweatshirts and long sleeve t-shirts are back! Get one before this year's are gone.
SHOP NOW
NEW ERA, 3 NEW SHIRTS
A new era of Georgia Tech men's basketball starts this season, and we've got 3 new shirts to celebrate.
We're excited to partner with Georgia Tech guard, Miles Kelly, who will get a percentage of sales of this officially-licensed NIL "shirsey," available in 2 colors.
And support the men's and women's teams with our new Basketball T-Shirt, which features the Buzz basketball logo that's been around since 1999.
SHOP NOW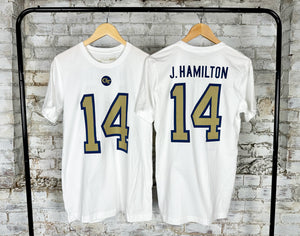 NEW JOE HAMILTON SHIRT!
We're excited to partner with Georgia Tech legendary quarterback, Joe Hamilton, who will get a percentage of sales of this replica of his jersey from the 1999 Heisman runner-up season.
SHOP NOW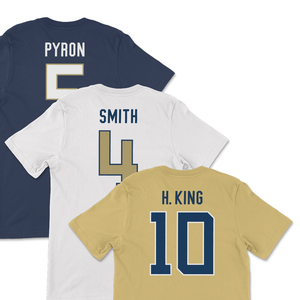 PLAYER JERSEY SHIRTS
We're excited to announce we've partnered with Georgia Tech quarterbacks Haynes King and Zach Pyron and running back Dontae Smith on our first officially-licensed NIL player shirts.

Haynes, Zach, and Dontae will receive a percentage of sales.
SHOP NOW
INTRODUCING OUR CLEARANCE SECTION
We've got some exciting new stuff coming, and we want to make some room, so we're introducing our clearance section. Enjoy more than 20% off these products, from now on.
SHOP NOW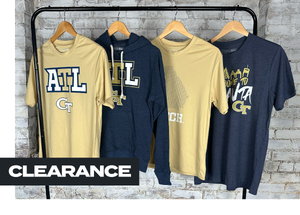 THE ESSENTIALS
In 2018, Georgia Tech unveiled their first new wordmark in 40 years. It's about time someone made it more available on apparel.
SHOP NOW